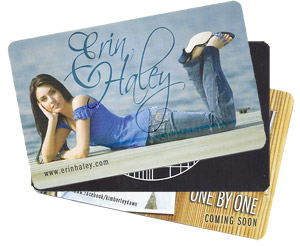 If you'd like to provide your music in a download format but you want to have something tangible you can sell to fans at shows and events, then we've got the perfect solution for you... the
Digital Download Card
.
One of the problems with download services such as iTunes is that people download your music and then you get paid later... sometimes much later... and then you only get a percentage of the selling price. That's not the case with the
Digital Download Card
service provided by CDwest.ca.
With the Card
service provided by CDwest.ca it's all about YOU because...
▪ YOU manage your music.
▪ YOU set the price.
▪ YOU collect the money up-front.
▪ YOU keep all of the money with no hold-backs or commissions.
►
Placing Your Order
When you order the Cards we need to know a few things:
▪ What quantity of Download Cards do you want?
▪ How much do you want to sell your Cards for (you can choose "free" if you want to)?
▪ How many downloads do you want the buyer to have access to?
▪ When will the Card expire (you can choose "never" if you want to)?
► When Your Order Is Ready
When your order is ready you'll receive your
Digital Download Cards
but you'll also receive log-in information to access your own online account where you will manage the music you're making available for download.
▪ Upload a maximum of 25 songs (maximum of 15mb per song).
▪ You can update, remove or add songs at any time.
▪ You can track your download history - who downloaded, and what song(s).
► Questions? Comments?
If you have questions or comments about the service please feel free to drop by our Surrey, BC office, visit our website or
contact us
directly by phone or email. We look forward to hearing from you!
+ + + + + + + + + + + + + + +
Located in Surrey, BC (a suburb of Vancouver), CDwest.ca provides factory-direct CD manufacturing with eco-print and packaging, along with an ever-growing list of related products and services including
vinyl record pressing
, custom
USB sticks
, and much more.
.